Average Temperature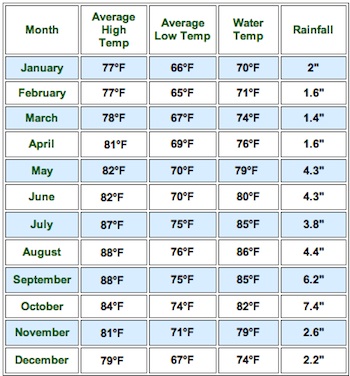 Boat Rentals
Golf Cart and Bike Rentals
Ocean Activities
Restaurants and Bars
| | |
| --- | --- |
| Abaco Inn | 242-366-0133 |
| Boat House/Sea Spray | 242-366-0065 |
| Captain Jack's | 242-366-0247 |
| Hopetown Inn and Marina | 242-366-0003 |
| Firefly Sunset Resort | 242-366-0145 |
| Hopetown Coffee House | 242-366-0760 |
| Harbours Edge | 242-366-0087 |
| Hopetown Coffee House | 242-366-0760 |
| Munchies | 242-366-0423 |
| On Da Beach | 242-366-0558 |
| Cracker P's- Lubbers Cay | 242-366-3139 |
| Pete's Pub- Little Harbor | 242-366-3503 |
| Nippers- Great Guana Cay | 242-365-5111 |
Shopping
| | |
| --- | --- |
| Ebb Tide | 242-366-0088 |
| El Mercado | 242-366-0661 |
| Iggy Biggy | 242-366-0354 |
| Sun Dried T's | 242-366-0616 |
| Tropical Treasures | 242-366-0095 |
| Imports Unlimited (Hardware) | 242-366-0536 |
Grocery Stores
| | |
| --- | --- |
| LVA Convenience Store | 242-366-0056 |
| The Food Store Bahamas | 242-366-0391 |
| Saltys Sky's Market | 242-366-0245 |
| Vernons Grocery | 242-366-0037 |
| Harbour View Grocery | 242-366-0033 |
Liquor Stores
Banking
There is one bank on Elbow Cay, but it does not carry an ATM. However, they are able to do Cash Advances with a Credit Card. The First Caribbean International bank is only open on Tuesdays from 10:00am – 2:00pm. There are several banks in Marsh Harbour.
Post Office
There is a post office on Elbow Cay, located centrally in Hope Town, just off the Upper Public Dock. Open weekdays from 9:00am to 4:00pm, it is the easiest way to send your letters and postcards.
Medical Services
There is a clinic in Hope Town open to visitors and residents. Although there is a $30 fee (not including medication) for visitors, the nurse is very knowledgeable and often has the medication and services you need, saving you a trip to Marsh Harbour.
| | |
| --- | --- |
| Monday – Friday | 9:00 AM – 1:00 PM |
The closest hospital is in Nassau, as there are none in Abaco. In case of emergencies, there is a government-run clinic in Marsh Harbour. Hope Town also has a volunteer Fire & Rescue team, and BASRA (Bahamas Air Sea Rescue Association) who are on-call for emergency situations. In severe emergencies, patients have to be airlifted to Nassau or to Florida.
Churches
St. James Methodist church, which overlooks the Atlantic Ocean. There are 2 services held on Sunday at 9:30am (family service) and 11:00am. There is also a Catholic service held in Jarrett park (by the library) on Sundays at 12:00 NOON.
Recent News
Albury's Ferry…. making it even more convenient to and from Hope Town and White Sound!! #bahamas #itsbetterintheabacos #catchawavebahamas..
Availability